Class Info
Ballroom dancing classes will again be offered this fall for boys and girls in the 6/7/8th grades. Classes will be held at Crestwood Christian Church, Bellefonte Drive at Glendover Road beginning on Thursday evening, September 28, 2017. Weekly sessions will last 10 weeks and conclude with a Winter Holiday Dance on Thursday, December 7th.
Learn Popular Dance Movements
Swing
Latin
Waltz
Other Rhythms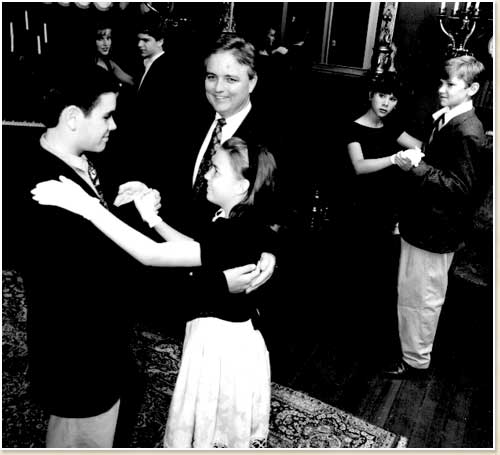 Students learn many dance styles in a fun and personable atmosphere at the Hall School of Dancing
Richard Hall Jouett, son of Marjorie Hall and grandson of the late Howard and Marjorie Hall, will conduct the classes along with a staff of assistants. The Hall School of Dancing is now serving its fifth generation of students in Central Kentucky. Rick has been associated with this fine tradition for the past 51 years.
Classes provide dance instruction in traditional ballroom and in the latest popular dance styles. In addition, we practice for future social situations while developing poise, courtesy, confidence, discipline and ballroom etiquette. Advanced instruction will be available to returning students as enrollments allow.
Boys wear suits or sport coats, dress slacks, shirts and neckties. Girls wear dresses or skirts with blouse/sweater, hosiery and white gloves. For reasons of safety, comfort and fashion coordination, dress shoes with hard soles and heels are required for all.
We encourage your prompt reply and suggest that you coordinate your application with an enrollment partner of the opposite sex. Please use the reverse side of your application card for such notation. If you do not have an application card, please visit our enrollment page. Thanks to many of you who have provided lists of prospective students. We do NOT receive student lists from schools. Attending Hall School of Dancing classes with friends increases the value and enjoyment for your student. We will gladly send this information to all friends and classmates from school, church, sports groups and new neighbors. If you have further questions, please refer to the FAQ on the left side of the page. We are NOT associated or affiliated with Cotillion.
CLASS WILL BE HELD 7:00PM – 8:30PM
PLEASE MAKE EVERY EFFORT TO DROP-OFF/PICK-UP CARPOOLS ON-TIME!
2017 SCHEDULE
September: 28
October: 5, 12, 19, 26
November: 2, 9, 16, 30
December: 7*
*Winter Holiday Dance on Thursday, December 7th*
Enrollments are accepted on a first-come, first-served basis. Alternate arrangements are available by contacting our enrollment staff. We anxiously await the opportunity to meet you and your children. Parents and adult family are cordially invited to view class anytime.
Let us send you a complimentary information packet, by filling out the form below.
Information Request Form
---
Ready to enroll? Go to our enrollment page and

We Welcome All Students Regardless of Race, Color, Religion or National Origin.