History & Tradition
The Hall School of Dancing began over 75 years ago in 1937. The school was established by Marjorie Penn Hall and her husband, Howard Hall. Mr. Hall was a musician, music teacher and band director in Lexington and Central Kentucky. Mrs. Hall had a large ballet and tap dancing school. They learned about this concept of teaching the basics of ballroom dancing with fundamental social skills from Mr. Fenton Botts in Dayton, Ohio. After visiting his classes, Mr. Hall was determined to bring this type of program to the Lexington area. He met with a core group of supportive parents who advised him that students in grades 6-8 would be most beneficial in the community. Mrs. Foster Pettit was particularly helpful in promoting the school and getting it started.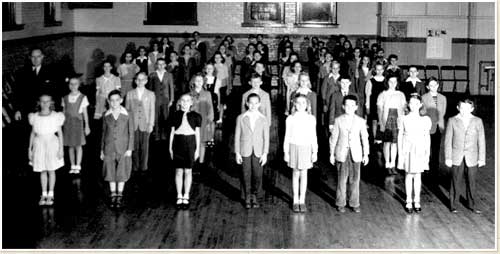 Students From Our Earlier Years Are Today's Leaders
The first classes were organized and began in September, 1937. Classes met in the gymnasium of the former YWCA, now home of ArtsPlace, on North Mill Street in downtown Lexington. Mr. and Mrs. Hall's daughter, Marjorie was a student in one of the sixth grade classes. The setting was ideal because there was an upper level balcony that allowed a discreet viewing area for parents to observe the class or one of the many elaborate parties. The Halls were assisted by hundreds of valuable staff assistants over the years.
Mr. Hall passed away in 1954, but his wife and daughter, both named Marjorie continued to organize and direct the school's classes. In the late 1960's the YWCA building fell into a state of disrepair and eventually was deemed unsuitable for use. Classes were held at several different locations in Lexington, including The Church of The Good Shepherd, Odd Fellows Temple, and Lansdowne Club. By 1970, a new permanent home was found at Crestwood Christian Church where the classes are currently held.
In 1965, Rick Jouett, son of Marjorie Hall Jouett and grandson of Marjorie and Howard Hall began assisting with the classes. In 1979, Rick assumed full responsibility for the school and continues in that role today. During this period, Lois Meriwether Wylie took over the duties of organizing the class enrollments, such a thankless and important task.
Rick's two children, Lindsey and Jack are now alumni of the school which is now entering its fifth generation of service to our community. Rick's wife, Jeanne helps with the enrollment process which begins every summer right after July 4th.
We are delighted to say that there are literally hundreds of former students who represent several generations of participation in the Hall School of Dancing program. Many of the original traditions remain in place today. For instance, boys wear coat and tie while girls wear dresses with white gloves. Students greet staff members when they arrive and depart each class session. During parties, we observe the practice of a grand march and no-break dance cards. Former students have gone on to become today's leaders and include area mayors, governors, congressmen, civic leaders, CEO's, doctors, lawyers, teachers and many other professionals. We hear from a large number of then that their training with us gave them a distinct advantage in social situations.